February 14, 2023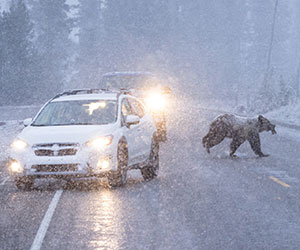 The cars prevent a grizzly bear from crossing an icy road. This photo and others taken by Cody's UW student Julia Cook will be displayed during the Larsh Bristol Photojournalism Fellowship Presentation at 4:30 pm on Friday, February 24 in room 506 of the Coe Library. (Photo by Julia Cook)
The thought of unknowingly encountering a grizzly bear puts an ever-present sense of fear and wonder in one's mind. Grizzly bear relationships with humans have a storied past and differ from state to state.
Julia Cook, a University of Wyoming environmental and natural resources major and Cody history major and recipient of the Larsh Bristol Photojournalism Scholarship, spent the summer and fall of 2022 photographing grizzly bears in Alaska and Wyoming to document their unique connection to humans and the civilized. world.
Cook will give his Bristol scholarship presentation titled "This Is Grizzly Bear Country: Human-Bear Interactions From Wyoming to Alaska" at 4:30 pm on Friday, February 24 in room 506 of the Coe Library.
The program will be followed by a question and answer session on the Bristol Fall 2023 scholarship application process and an exhibition of his photographs in the third floor gallery of the Coe Library. The presentation is open to the public and the exhibition will be open until March 31.
The Larsh Bristol Photojournalism Scholarship is an annual award for UW students to support strong visual storytelling projects. It is named in honor of Larsh Bristol, a UW journalism alumnus who died in 2006.
Through his fondness for wildlife and nature, most of Cook's free time during the summer is spent in Yellowstone National Park. She says that brown bears are the ones that fascinate her the most.
"Since I was a kid, bears have always been my favorite," says Cook. "They all have their unique personalities and it's been a joy watching some of them grow."
Prior to the fellowship, Cook photographed brown bears as a hobby, but removed aspects of human society such as roads, street signs, and people. However, Cook says many people don't realize how close grizzly bears are to human life. Her work documents how people and bears interact.
To tell his full story, Cook traveled to Alaska to access the brown bear population outside of Wyoming. His goal was to document the differences between the bears of Wyoming and Alaska.
"In Yellowstone, I would most likely photograph one bear at a time, but in Alaska, I can see about 19 different bears in my field of view," Cook says. "Alaskan bears can get very close to you and not be aggressive because of the amount of food they have."
Cook hopes his presentation will inspire others to get out and appreciate nature, whether it's an appreciation for bears specifically or an appreciation for the coexistence of nature and society.
"Many people view bears in a negative light, but I want to show that not only are they somewhat misunderstood, but they can also be very beneficial to the state of Wyoming," says Cook. "The Larsh Bristol photojournalism scholarship gave me the purpose of going to Alaska and Yellowstone. I was relieved to go there knowing that she had the personal and financial support of others."
The Larsh Bristol Photojournalism Fellowship has been hosted by the University of Washington Department of Communication and Journalism since 2008.
"Because of her connection to the Cody area, Julia had an interesting vision to show human-bear interaction, especially in Yellowstone," says department head Cindy Price Schultz. "Her presentation of her will not only show us the visual aspects of this interaction, but it will also be a great opportunity for students to learn how to apply for next year's Larsh Bristol scholarship."
The deadline for student applications for the Larsh Bristol Photojournalism Scholarship 2023 is March 24. For more information, email Price Schultz at [email protected].