Covid-19 levels are rising across most of the UK, in the latest sign that a new wave of the virus may be underway.
Infections have risen in England, Wales and Scotland, although Northern Ireland continues to see a decline.
Most age groups in England have seen an increase in the prevalence of the coronavirus, with higher rates among children of secondary school age.
Health experts warned of a "steady increase" in hospital admissions for Covid-19 and urged people not to become complacent.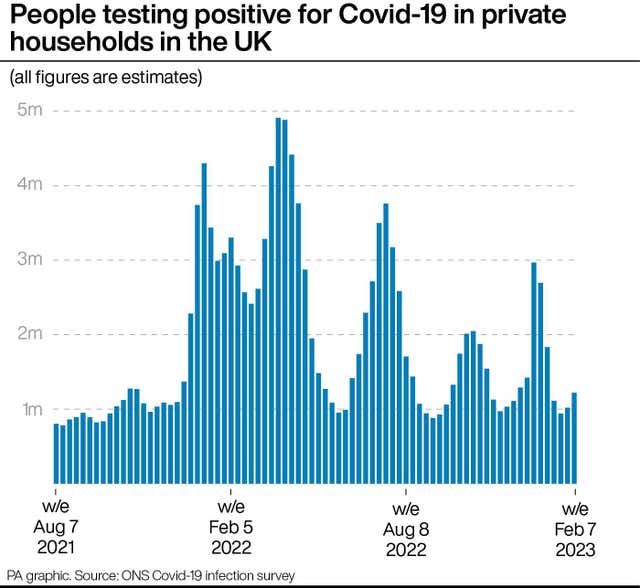 A total of 1.2 million people in private households in the UK are likely to have Covid-19 in the week to February 7, up 20% from the 1 million the week before, according to the Office for National Statistics. (ONS).
It is the second week in a row that the UK-wide total has risen and comes after a steady drop in levels throughout January.
A surge in the virus in the run-up to Christmas saw infections peak at three million at the end of December, though this was well below numbers seen in previous waves, including in spring 2022, when the total weekly rose to a record 4.9 million. .
Around one in 55 people in England are estimated to have the virus, up from one in 65 the week before.
The virus is least prevalent in Northern Ireland, at one in 80 people, the lowest estimate for the nation since September 2022.
For Scotland the estimate is one in 55, versus one in 65, while for Wales it is one in 65, versus one in 85.
Kara Steel, senior statistician at ONS, said: "This week's data shows that infections have risen in all UK countries except Northern Ireland where they have continued to decline.
"Positivity increased in most age groups in England and in all English regions except the North East and South West where the trend was uncertain."
The ONS infection survey is the most reliable measure of coronavirus prevalence and is based on a sample of household swab tests from across the country.
Around 2.8% of children in England between school years 7 and 11 are likely to test positive for covid-19 in the past week, up from 2.4% in the previous week and the highest percentage for any group. old.
The next highest rate is for people ages 35 to 49, at 2.4%, versus 1.7%.
Infections have increased in all other groups, except for children between the ages of two and school year 6, and those aged 25 to 34, where the trend is uncertain, the ONS said.
Separate NHS data shows that 7,209 people were hospitalized in England on February 15 and had tested positive for coronavirus, up 13% from the previous week.
The number of patients reached 9,535 over Christmas, but this was well below the levels reached during the first waves of the virus.
Hospital admissions for covid-19 stood at 7.9 per 100,000 people last week, up from 7.4 and the third consecutive weekly increase.
Dr Mary Ramsay, head of immunization at the UK Health Security Agency, said: "We are still seeing a steady increase in hospital admission rates for covid-19 and rates are still higher in people over the age of 65, who are more likely to develop severe illness from Covid-19, so we cannot afford to be complacent.
"There are simple actions we can all continue to take to prevent the spread of Covid-19. If you are unwell, please try to stay home and do not visit vulnerable people. If you have to leave home, consider wearing a face covering, which can help prevent you from transmitting respiratory viruses to yourself."
The most common type of Covid-19 in England remains the BQ.1 variant, which is part of the Omicron family, the UKHSA said.
Two newer Omicron variants, CH.1.1 and XBB.1.5, have a "growth lead" in the UK, meaning they are more likely to replace BQ.1 as the next dominant variant.
In Wales there are early signs of a rise in hospitalized Covid-19 patients, while in Scotland the drop in numbers since the start of the year has recently leveled off.
Northern Ireland figures continue to decline.