Ford is cutting around 1,300 UK jobs as part of a broader selection of roles in its European business, as the car giant looks to reinvent the brand and focus on a smaller range of electric vehicles.
The job cuts will see Ford lose around a fifth of its 6,500-strong UK workforce and come amid broader plans to cut around 3,800 jobs over the next three years across Europe.
He said most of the UK job losses will affect the company's technical center in Dunton, Essex, where it has some 3,400 workers.
A smaller operation in Stratford, east London, where around 200 staff work, will also be affected.
Manufacturing and logistics plants at Halewood in Merseyside, Dagenham in Essex, Southampton in Hampshire and Daventry in Northamptonshire will not be affected by the reshuffle, Ford said.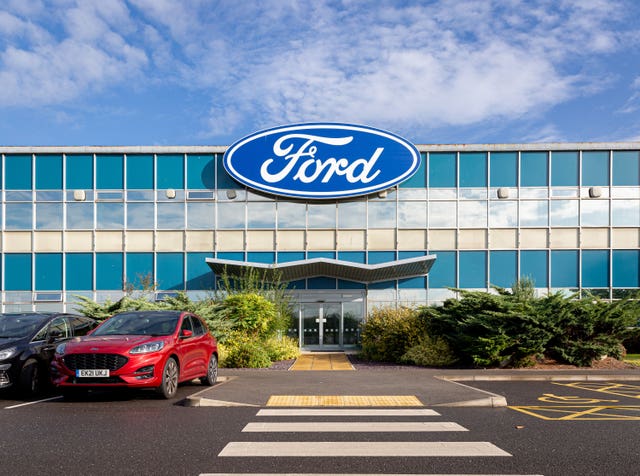 The company revealed that most of the job losses across Europe will be in Germany, where some 2,300 jobs are expected to go, followed by 1,300 in Britain and 200 in the rest of Europe.
The job losses will create a "lower and more competitive cost structure" for the business and help with the transition to a smaller, more focused and increasingly electric product portfolio, the company said.
It includes efforts to restructure its engineering arm, which will result in 2,800 fewer jobs division-wide by 2025.
This sacrifice will leave it with a much smaller engineering team totaling around 3,400 employees across the region, he said.
In addition, around 1,000 jobs will be created in its administration, marketing, sales and distribution teams across Europe.
In the UK, around 1,000 of the job cuts will affect the company's engineering team and 300 will affect back office operations.
Martin Sander, managing director of Ford Model e in Europe, said: "These are difficult decisions, which are not taken lightly.
"We recognize the uncertainty it creates for our team and I assure you that we will offer our full support in the coming months.
"We will engage in consultations with our social partners so that we can move forward together in building a prosperous future for our business in Europe."
Ford stressed that the European car market is highly competitive and there are growing fields of electric car rivals entering the market.
He gave assurances that the plans will "reinvigorate" the business as it is set to introduce its first European-made electric passenger car in the spring.
Sander said: "We are completely reinventing the Ford brand in Europe – unapologetically exceptional American design and connected services that will differentiate Ford and delight our customers in Europe."
"We are ready to compete and win in Europe," he added.
Ford said it intends to achieve the job cuts through voluntary separation programs, which means employees can reach an agreement with the company to leave their jobs.
Des Quinn, national automotive officer for the Unite union, said: "Ford's announcement is yet another stark reminder that the shift to electrification needs a just transition that requires investment and long-term planning by automakers and a appropriate industrial strategy by the government.
"That includes making sure electric vehicle batteries are built in the UK, along with a UK-based supply chain in electronic power drive systems and ensuring domestic development and manufacturing of drive systems. autonomous".