Gunmen stormed a hospital in northern Syria where a girl was receiving care after being born under the rubble of her family's home destroyed by the quake, a hospital official said Tuesday, adding that the attackers beat the director of the hospital. the clinic.
The official denied reports on social media that Monday night's attack was an attempt to kidnap the baby, named Aya, which means "a sign from God" in Arabic.
Aya has been in the hospital since hours after the February 6 earthquake that hit Turkey and Syria.
His mother, father, and four siblings died in the disaster.
Aya has been closely watched since her birth and people from all over the world have offered to help her.
The official, who spoke on condition of anonymity for fear of reprisals, said the hospital director suspected that a nurse who was taking pictures of Aya was planning to kidnap her and throw him out of the hospital.
The nurse returned hours later accompanied by gunmen who beat up the director, the official said.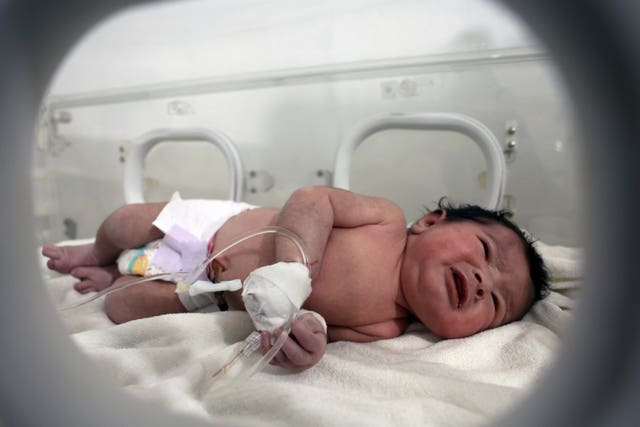 The director's wife has been breastfeeding Aya, her doctor said earlier.
Arriving at the hospital, the gunmen told local police officers protecting the girl that they were after the director for firing their friend and that they were not interested in Aya, according to the official.
Several people had turned up falsely claiming to be related to Aya, prompting local police to protect her, the doctor said earlier.
Aya's mother died after giving birth following the 7.8 magnitude earthquake that struck Turkey and Syria.
His father and four brothers also died in the earthquake.
Aya could be released from the hospital as soon as Tuesday or Wednesday, according to her great-uncle, Saleh al-Badran.
She said the baby's paternal aunt, who recently gave birth and survived the earthquake, will raise her.
Rescue teams in the northern Syrian town of Jinderis discovered the dark-haired girl more than 10 hours after the earthquake, while digging through the rubble of the five-story apartment building where her parents lived.
Buried under the cement, the baby was still connected by her umbilical cord to her mother, Afraa Abu Hadiya.
The baby was rushed to hospital in nearby Afrin, where she has been treated ever since.
The devastating earthquake followed by a series of tremors that shook southeastern Turkey and northern Syria reduced many of the towns and cities inhabited by millions to shards of concrete and twisted metal.
More than 35,000 people died, a number that is expected to rise sharply as search teams find more bodies.
The quake destroyed dozens of homes in the town of Jinderis, where Aya's family had lived since 2018.
Aya's father, Abdullah Turki Mleihan, was originally from the village of Khsham in the eastern province of Deir el-Zour but left in 2014 after the so-called Islamic State group captured his village, said al-Badran, the uncle of the Aya's father