All major road construction projects in Wales have been scrapped as the Welsh government makes fundamental changes to prioritize environmental concerns.
The decision was announced Tuesday by deputy climate change minister Lee Waters MS, who said all future infrastructure projects must now "reduce carbon emissions and support a shift to public transport, walking and cycling."
It follows a year-long review by the Wales Highways Review Panel, which was established in September 2021 and led by transport expert Dr Lynn Sloman, during which 55 road projects were halted and reassessed. roads.
In response to the panel's findings, plans for a third Menai Bridge will no longer go ahead and neither will the Red Route in Flintshire.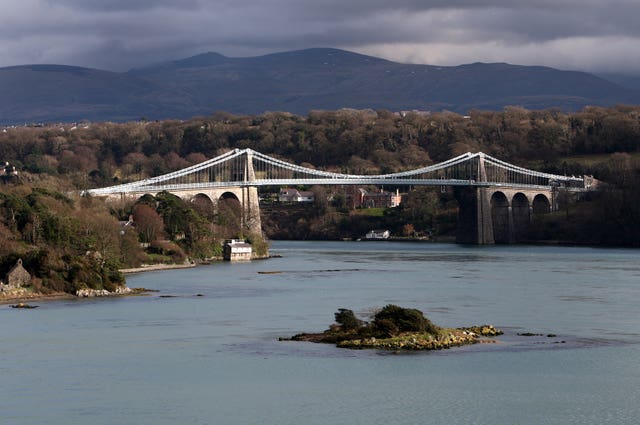 Other projects have been scaled back or postponed, with only 15 of the projects reviewed by the panel going forward in their original form.
Environmental and transport activists have welcomed the move, calling it "world leading" and "bold".
Meanwhile, members of the construction industry have warned it could put jobs at risk and frustrated motorists have questioned how congestion on existing roads will be improved.
Speaking at the Senedd, Mr Waters said: "Let me be very clear from the start, we will continue to invest in roads.
"Indeed, we are building new roads as I speak, but we are raising the bar that new roads are the right answer to transportation problems.
"We are also investing in real alternatives, including investing in rail, bus, pedestrian and bike projects.
"Even if we had wanted to keep making progress on all the road schemes in the pipeline, we just don't have the money to do it.
"Our capital budget will be 8% lower next year in real terms as a result of a lack of infrastructure investment from the UK government.
"With fewer resources, it becomes even more important to prioritize, and Roads Review helps us do that."
He added: "Our approach for the last 70 years is not working.
"As the review notes, the detour required to alleviate congestion often ends up creating additional traffic, which over time leads to more demands for additional lanes, wider junctions, and more roads.
"We go round and round, emitting more and more carbon as we go, and we won't get to Net Zero unless we stop doing the same thing over and over again."
To reach net zero by 2050, the minister said the government must be "prepared to move on."
Addressing congestion issues and their impact on travelers and businesses "will depend on different places," Waters told BBC Radio 4 PM.
"We want to prioritize freight transportation and we want to look at modal shift programs like bus lanes, like park and ride, like active travel routes, like trip planning," he told host Evan Davis.
Mr Waters also pointed to the £1.6bn plan for a North and South Wales Metro system and the bus franchise bill currently passing through the Senedd.
Instead of the controversial Red Route in Flintshire, improvements will now be made to the A494 at Aston Hill.
Plans for a third Menai crossing between Anglesey and mainland Wales have been superseded by a review of how to improve congestion, ensure the resilience of current bridges and encourage people to use other modes of travel.
The improvements set for the A483 around Wrexham will no longer go ahead and instead a review will take place on how to reduce car use.
Smaller scale improvements that have been given the green light to proceed include the A4042 corridor from Pontypool, the M4 through Torfaen, the A487 between Fishguard and Cardigan and the A4076 at Haverfordwest.
Proposals for new highways must pass strict criteria that show they will not increase carbon emissions, increase the number of private cars on the road, increase highway speeds, or have a negative impact on the environment.
The reaction from across the country has been mixed.
On Twitter, the leader of the Welsh Conservatives, Andrew RT Davies, said: "Senedd Labor ministers will not build new roads in Wales because they will 'induce demand'.
"Because encouraging more visitors to Wales and money into our economy is obviously a bad thing."
Wales' shadow transport minister, Conservative Natasha Asghar, said: "Workers need to provide more clarity on the future of infrastructure in Wales, provide meaningful improvements and stop simply kicking around the economic prospects of businesses in Wales." .
Flintshire Council leader Ian Roberts said he was "concerned that alternative solutions and funding for much-needed improvement works to local transport infrastructure are currently not being proposed."
Senedd Labor member of Clwyd South Ken Skates said he believed transport decisions "are best made at a regional level" and called for the matter to be delegated to North Wales.
Another Labor member, Alun Davies of Blaenau Gwent, expressed concern about the current availability of alternative methods of transport.
He said, "If we're going to take services away from people in terms of distance, then what we have to be able to do is provide the public transportation options that are available for people to get to those services, and that hasn't happened. ."
However, Liberal Democrat leader Jane Dodds said: "For too long we have spent millions on new roads with no real improvements to road safety or congestion."
Friends of the Earth Cymru director Haf Elgar said: "This world-leading report is a breath of fresh air promising a greener and fairer transport system in Wales.
"The Welsh government's response shows that they are serious about the climate emergency.
"We must break the cycle of building more roads for more cars; it will only create more congestion, make our air more polluted, and increase the emissions that are ruining our climate.
"For the sake of the planet and our health, we need to invest in better walking and cycling routes, and vastly improve public transport in Wales, including in rural areas, to make it easier for people to leave their cars at home." .
Duncan Dollimore, Cycling UK's head of campaigns, said: "The Welsh Government's Roads Review marks the most significant change in UK road construction policy in the last 20 years.
"The proposals are bold in principle and farsighted as they realize the economic benefit of placing people and the environment at the center of transport policy.
"This is a marked departure from the simplistic and outdated views of other UK administrations of building more roads as an answer to everything from transport problems, from congestion to poor air quality."