The Prime Minister has vowed that "political correctness" will not stand in the way of cracking down on recruiting gangs, as ministers promised tougher sentences and new support for local forces to protect children from abuse. .
Rishi Sunak will travel to the north of England on Monday to announce a new set of measures the government says will protect young women and girls from sexual abuse, which will also see ethnic data used to support police investigations.
Part of the plan will see specialist officers help local police forces solve child sexual exploitation investigations as part of a new recruitment gang task force, as Sunak warned that for too long "political correctness has prevented us from eliminating to vile criminals who prey on children. and young women.
He promised: "We will stop at nothing to take down these dangerous gangs."
The new task force, the government said, would be led by police and supported by the National Crime Agency, with members made up of officers with "extensive experience" in conducting investigations into recruitment gangs.
The plan will also see the use of ethnic data to help police investigate recruitment gangs, something ministers will argue is necessary to ensure "cultural sensitivities" are not used to prevent criminals from being caught.
Home Secretary Suella Braverman singled out British Pakistani men on Sunday for concerns about gang grooming, accusing authorities of turning a "blind eye" to signs of abuse for fear of being labeled "racist." " or "intolerant".
It came as he announced plans for a consultation on introducing a mandatory duty for professionals working with children to report concerns about sexual abuse.
Sunak will also say that grooming gang members and leaders will receive the harshest possible sentences, with the introduction of new legislation that would make membership an aggravating factor in sentencing.
Justice Secretary Dominic Raab said: "Grooming gangs are a scourge to our society and I want to send a clear message to anyone who exploits vulnerable children that they will face the full weight of the law.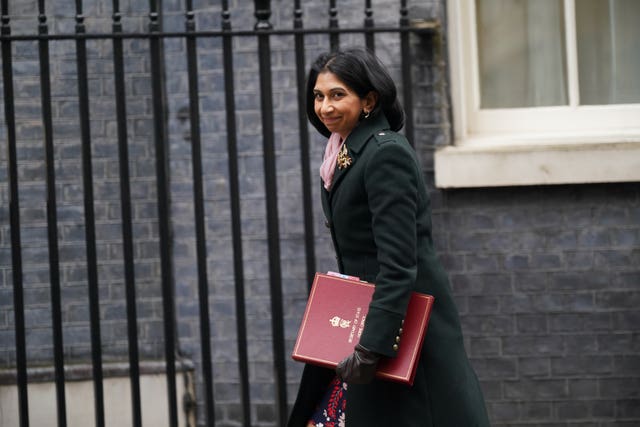 "This builds on the extensive action this government has already taken to introduce tougher sentences, and reforms introduced last week in the Victims and Prisoners Bill to keep the most dangerous criminals behind bars, while ensuring that victims get the support they need at all times. ."
The announcements come after last year's Independent Inquiry into Child Sexual Abuse described child sexual abuse as an "epidemic leaving tens of thousands of victims in its poisonous wake."
The seven-year inquiry into institutional failures in England and Wales concluded that people in positions of trust should be required by law to report child sexual abuse.
Professor Alexis Jay, who chaired the research, welcomed the announcements.
"The commitment to mandatory reporting is very encouraging, and I look forward to working with the Government to ensure that the full package of recommendations from the inquiry is carried forward in its final report to better protect children from sexual abuse in the future."
Ministers have said they will also provide additional support to the NSPCC's whistleblowing helpline.
Labor said it had long called for mandatory reporting, calling the government's response "hopelessly inadequate".
Shadow Home Secretary Yvette Cooper said: "Ministers have known about the role of organized gangs in child exploitation for years; yet when Labor called for mandatory reporting and expanded police specialist teams almost a decade ago, they failed to act and have been long overdue. from.
"Only 11% of child sexual abuse cases end with a charge, up from 32% seven years ago, and court backlogs have gotten much worse with victims waiting years for justice.
"Short-term headlines are not enough. We need a comprehensive plan that listens to survivors and victims and appropriately addresses child exploitation and abuse, including online, to keep children safe."
Sir Peter Wanless, chief executive of the NSPCC, welcomed the government's announcement, but added that "perpetrators do not come from just one background."
He also said the plan had to be "backed with funding for services to help child victims recover and support for a justice system that is struggling to get by."
He added: "Sexual predators will target the most vulnerable and accessible children in society and there needs to be a focus on something other than race so that we don't create new blind spots that prevent victims from being identified.
"Better data collection by law enforcement as part of the package of measures announced today would help ensure that all who work to protect children have a clearer, more evidence-based understanding of child sexual abuse and exploitation. so they can be addressed more effectively."
England's Children's Commissioner, Dame Rachel de Souza, also welcomed the plans, but urged the government to "extend this same approach to children arriving in the UK who often face similar dangers."
She said: "Any measure designed to make children safer, regardless of their background or circumstances, is a positive step, so I am pleased to see the commitment to carry forward the recommendations of the Independent Inquiry into Child Sexual Abuse .
"This must go hand in hand with reforms in child care, putting children's experiences and voices at the center of the system and making sure they feel able to trust the adults they trust to protect them, who in turn they will receive support to maintain them. sure. I look forward to seeing the full details of these proposals."